Change to the Date and Location of Convention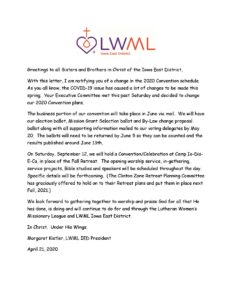 The theme will be:Under His Wings – Under His wings you will find refuge; His faithfulness is a shield. Psalm 91:4b.
Under His Wings
September 12, 2020

Camp-Io-Dis-E-Ca
3271 Sandy Beach Rd NE
Solon, IA 52333

Items for sale
Here is the registration form
Registration has been extended until September 1, 2020.
Here is the Convention/Celebration Agenda
Here are the mission grant results from voting results reported June 16th.
Here are the results of the other voting
Convention promotion materials
Here is the Mission Grant presentation
Updated LWML IED Mission Grants 2020-2022
Please note that when you click on the link for the video, you will need to click on the play button.
Here is the skit to promote the convention.