Charmed
It started in the late 1950's – something of which I am very grateful. I was a young girl, the beginning times, I heard the conversations between my mother, Joyce Kehe – Ladies Aid member at Immanuel Church – Klinger, Iowa, with my grandmother, Adella Schultz – Dorcas member at St. John Church – Waverly, Iowa. Those conversations about their church women's organizations continued through the decades. As I grew older, together we talked about LWML, missions, mite box offerings, prayers, fellowship, Bible studies, rallies, doing servant events, and more. Of course, being Lutherans, the topic of food was included – how delicious that casserole/salad/dessert tasted that was served at the last LWML meeting AND ideas of what food to serve when it was our turn to serve! Hmm…that reminds me, my grandma and mom made THE best jello – "Lutherans do love jello!"
As time went by, my grandma and mother were called to the church triumphant. They have received their crown of life. I rejoice with them, but I miss our conversations about LWML. Then the idea came to mind that I would create a "conversation piece of LWML" to joyfully share with others what fills my heart – through conversations. On the cross necklace there are charms of mustard seeds, LWML, purple heart, mites, plus birthstones and initials of my grandmother and mother.
There is so much more to share with you – let's have a conversation!
Serving the Lord with gladness,
Karen J Boehme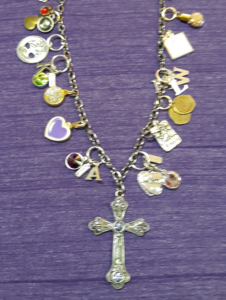 Westgate Zone Fall Rally
Location:   Immanuel Lutheran Church at Klinger of rural Readlyn.
Date:  Saturday, September 19, 2020
Time:  8:45 – 9:30 am Registration & assembling Mercy & school kits for Orphan Grain Train.
Agenda
9:45 am Opening Devotions by the Rev. Philip Girardin, Host Pastor.
10:00 am Speaker, the Rev. Andrew Preus, pastor of Trinity Lutheran Church, Guttenberg and St. Paul Lutheran Church of McGregor "STANDING ON SCRIPTURE"
2 Timothy 3:12 ESV
11am Christian Life skit, reports and business meeting.
11:45 am Closing devotion by Zone Counselor, the Rev. Michael Holmen of Peace Lutheran Church, Oelwein and Our Redeemer Lutheran Church,  Independence.
Westgate Zone Officers
President – Nancy Maurer
Vice President – vacant
Secretary – Brenda Boyce
Treasurer -Vera Hoins
Pastoral Counselor – the Rev. Michael Holmen
Young Women Rep. Coordinator – Karen Boehme
Human Care Chairman – Carol Lau
Christian Life Committee – Connie Werling, Marilyn Helmuth, Brenda Boyce and Becky Wehrspann